Sacraments
Sacraments are holy, visible signs instituted by Christ of an invisible reality, in which we can experience the healing, forgiving, nourishing, strengthening presence of God that enables us to love in turn. In traditional Catholic theology, the effectiveness of a sacrament depends both on the action of the Spirit and on the response of the person and community celebrating it – as always, a covenant. Sacraments bring the response-ability to live as graced people. From the Essential Catholic Handbook, Liguori and What Makes us Catholic by Thomas H. Groome
Baptism
The Sacrament of Baptism is the foundation of Sacramental life in the Church. In this Sacrament, we are cleansed of original sin, are reborn of water and Holy Spirit, and are incorporated into the Body of Christ. – Catechism of the Catholic Church 1213 Parents whose children are to be baptized should call the rectory.
Penance
Children are prepared to receive the Sacrament of Penance for the first time when they are in their second year of sacramental preparation and are at least seven years of age. Children will be prepared to receive the Sacrament of Penance a few months before they receive First Holy Communion.
Eucharist
First Holy Communion is celebrated when children are at least seven years of age and are in the second grade. Children must attend religious education prior to celebrating this Sacrament.
Confirmation
For "by the sacrament of Confirmation, [the baptized] are more perfectly bound to the Church and are enriched with a special strength of the Holy Spirit. Hence they are, as true witnesses of Christ, more strictly obliged to spread and defend the faith by word and deed." – Catechism of the Catholic Church 1285.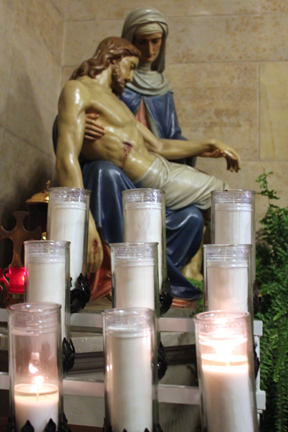 Marriage
Sacred Scripture begins with the creation and union of man and woman and ends with "the wedding feast of the Lamb" (Rev 19:7, 9). Scripture often refers to marriage, its origin and purpose, the meaning God gave to it, and its renewal in the covenant made by Jesus with his Church. Arrangements for marriage must be made at least six months before the wedding. Please contact the rectory for more information.
Holy Orders
Those who receive the sacrament of Holy Orders — as a deacon, priest or bishop — are consecrated in Christ's name "to feed the Church by the word and grace of God." More information about vocations to the priesthood and diaconate are available through the Diocese here: Vocations Priestly vocations in the diocese
For your vocation (USCCB)
Anointing of the Sick
The Rite of Anointing tells us there is no need to wait until a person is at the point of death to receive the Sacrament. A careful judgment about the serious nature of the illness is sufficient. The Sacrament may be repeated if the sick person recovers after the anointing but becomes ill once again, or if, during the same illness, the person's condition becomes more serious. A person should be anointed before surgery when a dangerous illness is the reason for the intervention. Please phone the rectory when ill or entering the hospital.